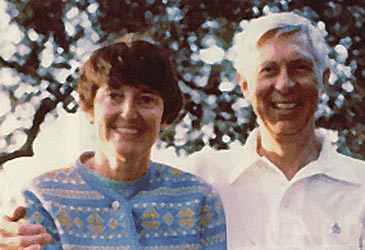 William & Bobbie Johnson, Founders of AHF
In Loving Memory
William "Bill" Johnson graduated from Wheaton College, continuing his education at Northwestern University for medical school, completing his residence at Cook County Hospital in Chicago, specializing in general surgery. Dr. Johnson served in the Army for a year after medical school as a M.A.S.H. hospital physician in Korea. Roberta Jean "Bobbie" Chapman received a Bachelor's Degree in English, with a minor is Spanish, from Indiana University and taught English and Spanish for one year after graduating in 1952. During that year, Bobbie met Bill while he was on a brief visit home from Korea, and they began a writing relationship. In 1953, Bill and Bobbie married. Soon after they were married, Dr. Johnson and Bobbie traveled to Japan as he served as an Army physician for an additional year, acting as the Chief of Surgery in Sendai. In 1954, the couple returned to the United States and Bill set up a surgery practice in San Jose, California. After 38 years of working at a strong and successful surgery practice, Bill retired in 1992.
During their years together, Bill and Bobbie gave so much of their time to missionary work throughout the world.  With the support of Bobbie, Bill went overseas several times to do medical missions work on a short-term basis, such as serving in the Comoro Islands off the coast of Africa, performing surgery among the people living at the "garbage dumps" in the Philippines, teaching surgery in Beijing, China at the invitation of the government, and performing surgery in a hospital in Belize. In 1970, Bill and Bobbie answered their calling to move to Kenya for a year with their four daughters (Kathryn, Nancy, Kristen and Patricia) for Bill to serve as a physician in a small hospital. During their stay, Bobbie enjoyed assisting Bill and the nurses in the surgical unit. Bobbie had a heart for the ministry as well, and in order to best provide professional assistance to Bill, she completed her nurse training, in 1975, prior to returning to Africa.
In 1992, the couple founded the Albanian Health Fund to show the love of Christ to the Albanian people through providing medical services and education to medical personnel/students in Albania. As a couple they traveled to Albania several times to provide their knowledge and compassion to the people with whom they interacted.
The Johnsons are remembered by many for their kindness, generosity and willingness to help others. Their continual desire to share Christ with others, either home or abroad, became an integral part of their lives. Their legacy continues today with the Albanian Health Fund, as physicians continue to train medical students with knowledge of their respective specialties  while sharing the love of Christ so that they, the students, are enabled to provide the compassion and caring to the patients they serve.